I made a decision to remove the eCommerce application that supported the purchasing of products from the previous Website. Keeping that the Website secure and up to date so I could accept payments was consuming too much time.
So in future products I have for sale can be purchased in Tindie, see my shop here;
---
Featured products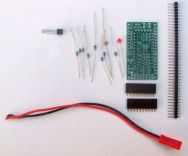 An easy build kit to enable you to use your 3.3v 8Mhz Arduino Pro Minis with StuartsProjects breadboard friendly modules.